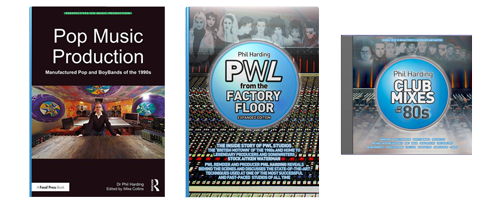 BOOK

Pop Music Production

BOOK

PWL From The Factory Floor

2CD

Phil Harding Club Mixes Of The 80s
INTRODUCTION
Dr Phil Harding is a Music Producer and Engineer, Author, Academic and co-chair of advisory body to music education, JAMES. This site provides further information on the numerous elements of Phil's past and present career, his books and music available to buy, news updates, interviews, a selection of photographs, plus a new discography and a new 'jukebox' player showcasing some of the huge body of work he has released...

Phil's career started at London's
Marquee Studios
, engineering acts such as
The Clash
,
Killing Joke
,
Toyah
and
Matt Bianco
.
In the

1980s

, Phil was chief mix engineer for

Stock Aitken Waterman

(

PWL Studios

), working with acts such as

Dead Or Alive, Rick Astley, Kylie Minogue, Bananarama, Mel & Kim, Donna Summer

and

Pet Shop Boys

– and remixing

Diana Ross

,

The Jackson 5

,

Chic

,

Depeche Mode,

Erasure

and many more.
During the

1990s

, Phil and Ian Curnow ran

P&E Music

from

The Strongroom

studio complex, producing hits for

East 17

(including Christmas No.1 'Stay Another Day'),

Deuce

,

911, Let Loose

,

Caught In The Act

and

Boyzone

(including No. 1 'Words').
Following his increasing involvement in
music education
since the
2000s
, and becoming co-chair of
JAMES
(Joint Audio Media Education Support), Phil completed a
PhD
doctorate in
Music Production
at Leeds Beckett University in 2017.
Phil's first book, '

PWL From The Factory Floor

' (2010), has now been followed by new book '

Pop Music Production

' (2019).
Phil worked with

Lamont Dozier

in LA to mix the 'Soulicious' album for

Cliff Richard

, and continued work through his current team, '

PJS Music Productions

', has included tracks for

Holly Johnson

,

Belinda Carlisle

,

Samantha Fox

,

Curiosity

and

Mel & Kim

.
2020 has seen a
lecture tour
of UK universities and industry organisations, an 'In Conversation With...' public event and radio, press and TV interviews. In 2022, Phil released a new EP with his long-standing band 24Club.
NEW BOOK
Manufactured Pop and BoyBands
Dr. Phil Harding
|
Edited by Mike Collins
This book delves into academic depths around the pop music culture, business, songwriting and production process. It balances autobiographical discussion of events and relationships with cutting-edge analysis to offer poignant points on the value of pure popular music, particularly in relation to BoyBands and how creative pop production and songwriting teams function.
Including practical resources such as recording studio equipment lists, producer business deal examples and a 12-step mixing technique and is aimed at lecturers and students of all levels in the fields of Music Production, Audio Engineering, Music Technology, Popular Songwriting Studies and Popular Music Culture.
20% DISCOUNT

- LIMITED TIME - Enter code

HUM19

(Routledge site below)...
Paperback | Hardback | E-Book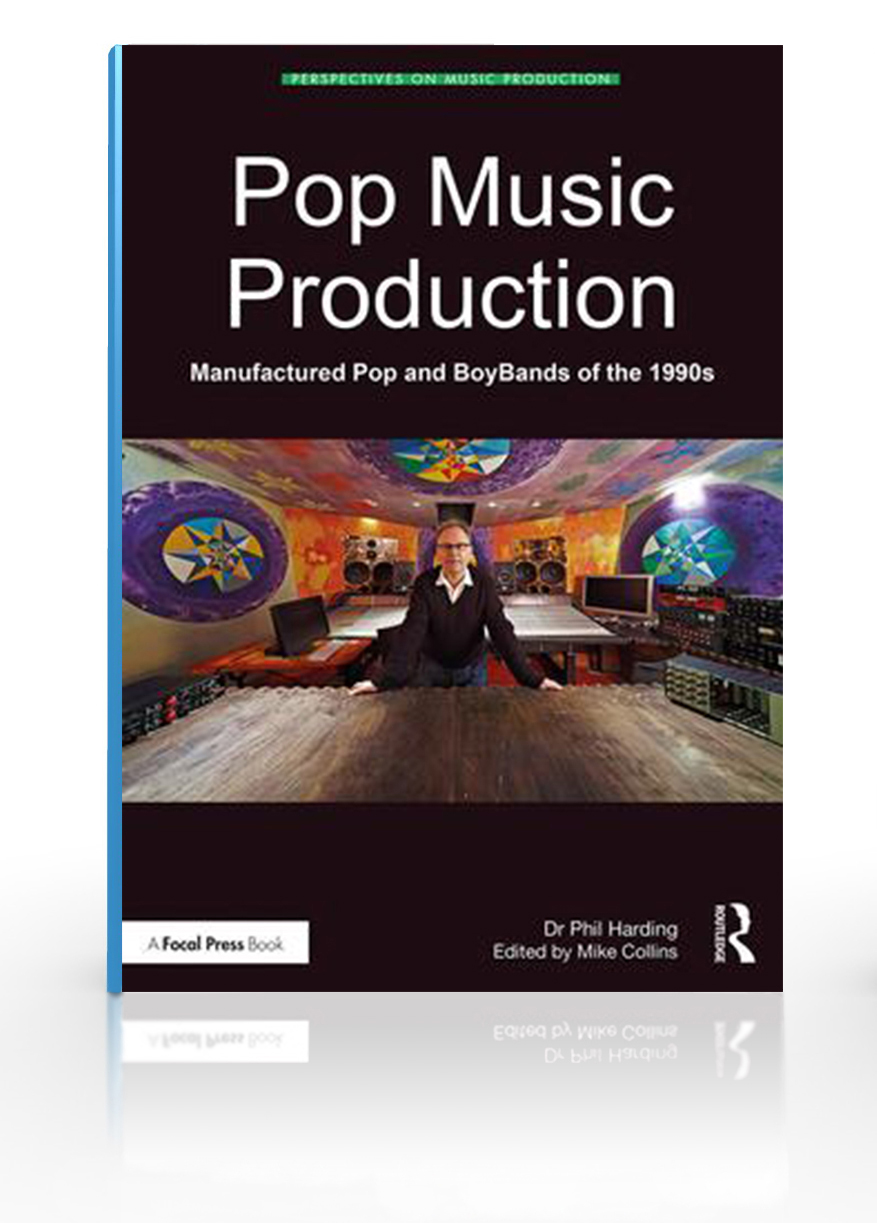 BOOK
'PWL From The Factory Floor'
Phil Harding
|
Edited by John Paul Palmer
Refreshingly and affectionately frank, Phil tells the inside story of PWL Studios, the base of Stock Aitken & Waterman, and one of the most successful and fast-paced music studios of all time. His pivotal role provides a uniquely broad perspective, extending from the 'top' of the organisation (mixing many classic SAW hits), right down to the 'bottom' (training up-and-coming engineers), as well as involvement in the creative, business (and diplomatic!) aspects of being an acclaimed producer in his own right and developing a profile and client base (such as a young Simon Cowell) under the management of Pete Waterman.

The 600-page book also takes in the technicalities of studio work, including a detailed case study of the mixing of a No. 1 single in the form of Kylie Minogue's 'Hand On Your Heart', and information on the techniques and cutting edge technology used in making the studio a world leader. A must-read for 80s, club, dance and pop devotees, contemporary music followers, studio technicians and creators and those with any interest in the extreme highs and lows that only pop music can provide.
Paperback (Expanded Edition) | E-Book (Text-only and abridged)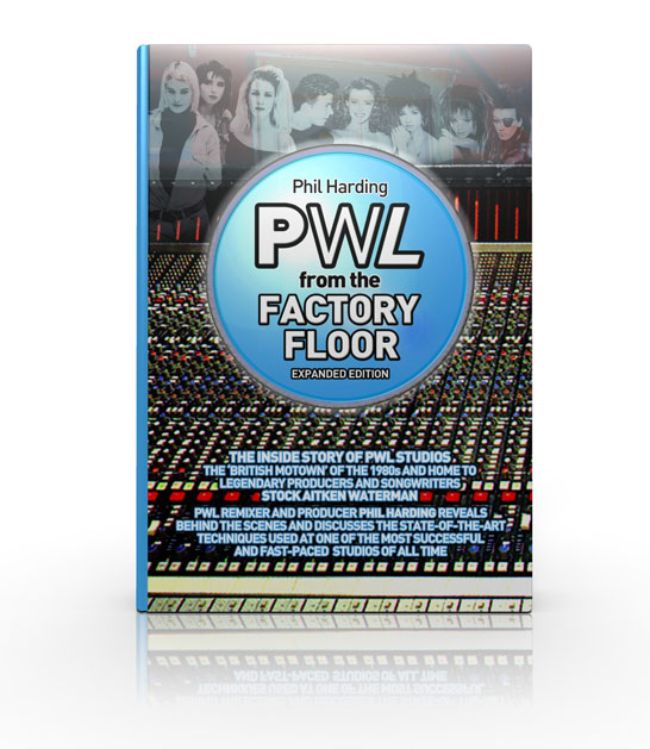 + CD


'Phil Harding Club Mixes Of The 80s'
Companion to the 'PWL From The Factory Floor' book
With a CV resembling a 'Who's Who' of the music industry, remixer and producer, Phil Harding's career spans over 30 years... from recording The Clash in the 70s, remixing and producing top club/dance and pop acts in the 80s and 90s, to recently working with Lamont Dozier in L.A. In the 80s, working out of a basement studio in the Pete Waterman-owned PWL studio complex (with production partner Ian Curnow), Phil Harding club mixes and productions dominated the dancefloors and club charts on an international scale. On this long-awaited, double-CD package (with 24-bit digital remastering) are 25 sought-after classic 80s remixes and rarities...

Motown stars
DIANA ROSS | THE FOUR TOPS | MICHAEL JACKSON WITH THE JACKSON 5 | JIMMY RUFFIN
Hit 80s artists
ABC | HOLLY JOHNSON | EIGHTH WONDER & THE PET SHOP BOYS | IMAGINATION | BASIA (MATT BIANCO) | BLOW MONKEYS | FIVE STAR | GODLEY & CREME | RICK ASTLEY | DEAD OR ALIVE
Previously unreleased tracks and mixes
JIMMY RUFFIN stunning unreleased production | RICK ASTLEY (2 unreleased mixes including the original 'Never Gonna Give You Up' Club Mix + 2 unreleased Harding/Curnow productions) and a planned SINITTA 1990 re-launch with a Madonna 'Vogue'-style club sound.
Comprehensive colour booklet
packed with new research, Phil Harding mix commentary and interviews on an unprecedented scale (30,000 words - equivalent to an extra 5 chapters-worth if included in the book)... In addition to an in-depth brand new interview with Phil Harding and Ian Curnow together on 'the making of' these tracks and beyond, there are interviews with 10 other artists/industry personnel involved with these tracks back-in-the-day. With a selection including 10 US Dance Chart hits (4 reaching No. 1) and UK club and singles chart successes too numerous to mention (and many never-before-on-CD), 'PHIL HARDING CLUB MIXES OF THE 80s' is a must-have release for 80s club, dance and pop devotees alike.
Short Preview Megamix of the first 7 tracks (the tracks on the CD are full length)...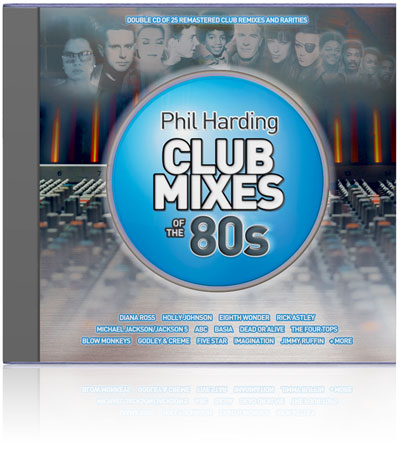 CD1
01. Michael Jackson with The Jackson 5 | I Want You Back ['88] (12" Remix) *
02. Eighth Wonder | I'm Not Scared (10" Remix) @@
03. ABC | When Smokey Sings (The Miami Mix)
04. Diana Ross | Love Hangover ['88] (12'' Version) @
05. Rick Astley | She Wants To Dance With Me (Original Extended R'n'B Version) +
06. Four Tops | Reach Out I'll Be There ['88] (12" Remix) @@
07. Holly Johnson | Americanos (PWL Extended Version) @
08. Godley & Creme | Snack Attack (Extended Remix) @
09. Jimmy Ruffin | Easy Just To Say (I Love You) (Extended Club Mix) @@
10. Basia | Until You Come Back To Me (Phil Harding 12" Remix) @
11. Rick Astley | Til The Day That I Die +
12. Dead Or Alive | You Spin Me Round (Like A Record) (Murder Mix) #
01. Blue Mercedes | I Want To Be Your Property (DEF B4 Dishonour Mix) @@
02. Pepsi & Shirlie | Heartache (Dot & Daisy's Club Remix)
03. Imagination | Instinctual (Jack Leee Freak Mix) @@
04. Blow Monkeys | Digging Your Scene (Remix) @@
05. Rick Astley | Stay With Me Tonight +
06. Fe Fi Fo Fum | Beat Your Body (Manhattan Mix) @@
07. The Blue August Project | Oxygen (Extended Dance Version) @
08. Sinitta | Body Shopping (New Vogue Version) +
09. XS-5 | I Need More (Extended Dance Version) @
10. Agents Aren't Aeroplanes | The Upstroke (12") @@
11. Jimmy Ruffin | Truly Yours +
12. Five Star | Rain Or Shine (Remix)
13. Rick Astley | Never Gonna Give You Up (Phil Harding 12" Mix) +
+ Previously unreleased
@@ First time on CD
@ First time on CD in the UK
* Rare on CD
# First time on CD from studio master original
Cherry Red Records | Sony | Universal | Blue August
CD Project Producer | John Paul Palmer